Tour
7 Places To Take Instagrammable Shots In Korea
Updated on Aug 29, 2023
 · 
By ENKOR
Don't matter if you're a photographer or passionate about photography, every people are bound to have one or two most beautiful photos of their own, we can call it "Life Shot" here in Korea. Well, it literally means either you came out well in the photo, or some unique, distinctive photos of yours, which you could called it "The Best Photo of your life". And we prepare a list of places where you can take some incredible Instagrammable shots in Seoul, Korea.
With just a little bit of travelling, you can get to some most Instagrammable spots, that are still not really well known to even the locals.
1. Guri Hangang Park (구리한강공원)
Located at the east side of the city, this particular Hangang Park is beautiful and yet not totally popular among the locals due to its distance. It is a little bit far, but we ensure you that it is worth the trip. Just a trip of 1 hour-1hour 30minutes, you will find yourself in a sea of flowers with refreshing breezes which you could take some nice Instagrammable shots there.
Address
Topyeong-dong, Guri-si, Gyeonggi-do
2. Incheon (Beach) 인천 바다
Address
Wolmido, Gaho-dong, Incheon
3. Eunpyeong Hanok Village 은평한옥마을
How about a Hanok Village which doesn't have much crowd compare to the Bukchon Hanok Village that is located next to Gyeongbokgung Palace? This Hanok Village is located at the North Side of Seoul. It does take some time to get there, but this beautiful place is great for its serenity and has lesser crowd which makes it a good place to have some peaceful walks and take some good shots.
Instagram: doan_foto
Address
127-25 Jingwan-dong, Eunpyeong-gu, Seoul
4. Naksan Park 낙산공원
Located in Jongo-gu, one of the best spots to take some real good photos of sunset and night view of the downtown Seoul. Famous for its nighttime views and the historical Seoul City Wall, a good place for some evening hiking and enjoy the beauty of night view, take the trail from Hyehwamun to Dongdaemun, vice versa. Or begin your walk at Daehak-ro if you prefer an easier route or a simple stroll.
Photo by HANSOL
Address
41 Naksan-gil, Ihwa-dong, Jongno-gu, Seoul
5. Gimpo La Veniche March Avenue 김포 라베니체 마치에비뉴 수변상가
Located in Gimpo, a Han River city that based the Benaccia of Italy, a so called "Venecia of Korea"
is famous not only for its foreign vibe and view during the day, but also beautiful exotic night view as well. True to its name and intention, looking only at the photos is incomparable to seeing it there yourself. The entire vibe feels just like being in Venice.
Address
72 Gimpohangang 2-ro 23beon-gil, Gimpo-si, Gyeonggi-do
6. Sky Park 하늘공원
It is one of the most famous places in Seoul. In March, fresh green leaves grow, and the cool breeze blows, a perfect place for a little exercise and a walk. Located in Sangam-dong, Mapo-gu, it is famous its pink shaded silver grass. It's especially a great place to go during the fall, seeing the birds and enjoying the view of sunset. The yellow-brown grass moves with the wind and the blue sky, nowhere else beats this perfect place to take some life shot photos for your Instagram.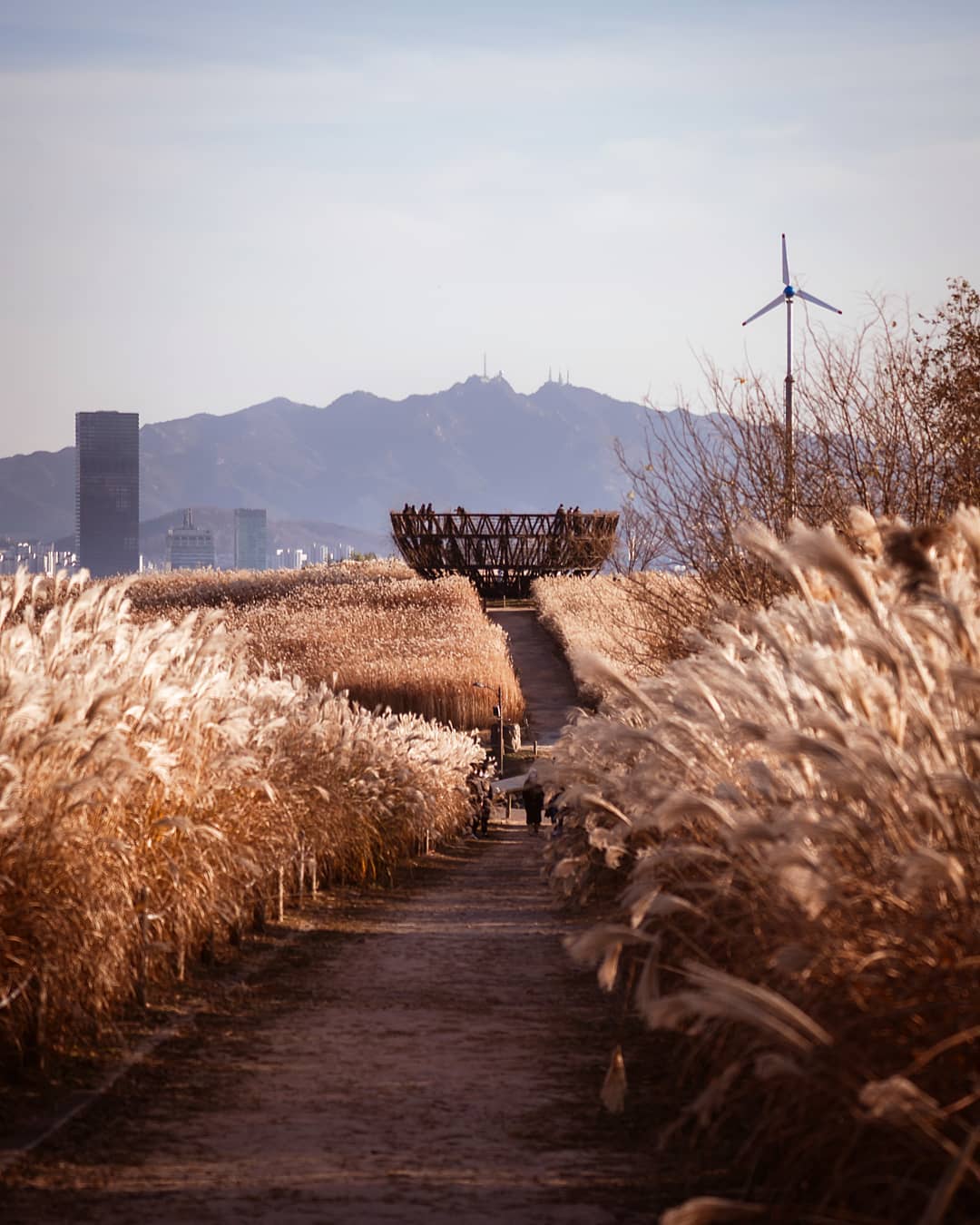 Instagram: mrsglittertravels
Address
487-48 Sangam-dong, Mapo-gu, Seoul
7. Olympic Park Naholo Tree 올림픽공원 나홀로나무
Address
424 Olympic-ro, Oryun-dong, Songpa-gu, Seoul
See more post
---