Tour
Hidden Date Course In Mangwon-Dong, Seoul
Updated on Aug 29, 2023
 · 
By ENKOR
Despite the days grow shorter and gets rougher, love has never been any lesser at any time of year. Rather than some typical dating course at shopping mall or cafés, and why not make it more special and unusual for your loved ones? There's nothing more important than to really show your deep felt emotions than sprucing up the date itinerary. You can enjoy our recommended ''date'' course, be it couple, or single, or with friends! Now let's get that love, friendship, or bromance blooms even more beautiful via our Mangwon date course.
Mangwon-dong's attraction and overall vie to the neighborhood make it hard to sum it up in a few words. Used to be a "poor part of Seoul", but now it's full of good restaurants, nice cafes, unique prop shops that are well-designed with gorgeous décor that makes the crowd flood to the neighborhood. Young people often head to Mangwon-dong for dates, spending some time with friends over some desserts and tea, photo-taking etc. Now let's dine in to the nooks and crannies of this famous neighborhood with a date course prepared by us to help you enjoy the cozy neighborhood thoroughly~
1. Mangwon Local Market
Kicks Off Your Date By First Going To The Famous Market, Called 
Mangwon Market [망원시장]
Mangwon Market, 망원시장
English Address 
403-7, Mangwon-dong, Mapo-gu, Seoul
Korean Address
서울특별시 마포구 포은로8길 14
Directions
Mangwon Station, Line 6 Exit 2
Turn right and go straight (World Cup-ro 13-gil) and go straight 400m and turn right
A traditional market located in Seoul where you can buy fresh produce and delicious street food. It is right beside the Mangwon subway station (Line 6), Exit 2 and experience a traditional Korean market.
It is a typical local market where you can purchase cooking materials such as fresh vegetables, meats, and basic side dishes at a very discounted price. Don't feel embarrassed or shy to ask for some discount from the ahjummas! Aside from fresh cooking materials, delicious street food vendor is along the street and it is wise to bring some cash with you as they accept payment in cash more often.
2. The Famous Mangridan-Gil Street.
Mangridan-gil, 망리단길

English Address
403-7, Mangwon-dong, Mapo-gu, Seoul
Korean Address
서울특별시 마포구 망원동 403-7
Directions
Mangwon Station, Line 6 Exit 2
Go to the alley on the right hand side (World Cup-ro 13-gil) and go straight 500m.
There are a lot of unique stores like, bookstore, selfie studio, figure café, vintage shop, dessert café but they are not lined up on the street. Some of them are hidden in plain sight along the street and might not even have signs so you may want to pay more attention into finding them. So it would be great if you can find these hidden gems as your own hideout for you and your friends or the only date spot for you and your partner.
3. Grab Your Dinner At One Of The Restaurants There
Below are a list of restaurants you can consider as your dinner for your date night.
Kitchen Galmaegi
Instagram: galmegi_kitchen
A personal keeper of the Author of ENKOR Blog, a small Japanese restaurant that serves Japanese home cook dishes. The special trait about this restaurant is that they don't have a fixed menu but serves food according to seasons, and the cooking material they currently have. Although they don't have a fixed menu nor they are a big restaurant, it still has a huge crowd of popularity and you may have to queue up if you arrive late.
Address
401-2 Mangwon-dong, Mapo-gu, Seoul
Opening hours
Everday except Wednesday and Sunday 12PM-9PM (Lunch last order: 2:30PM, Dinner Last Order: 8:00PM)
Contact
0507-1427-7984
*Opening hours are subject to change at the owner's discretion
Bistro Mangwon
Steakhouse that serves with not only fresh and healthy ingredients, but also high-quality French rack and T-bone steak with affordable wine. After the sumptuous meal, you will get to enjoy their delicious desserts! Undoubtedly a perfect place to spend some romantic time with your lover.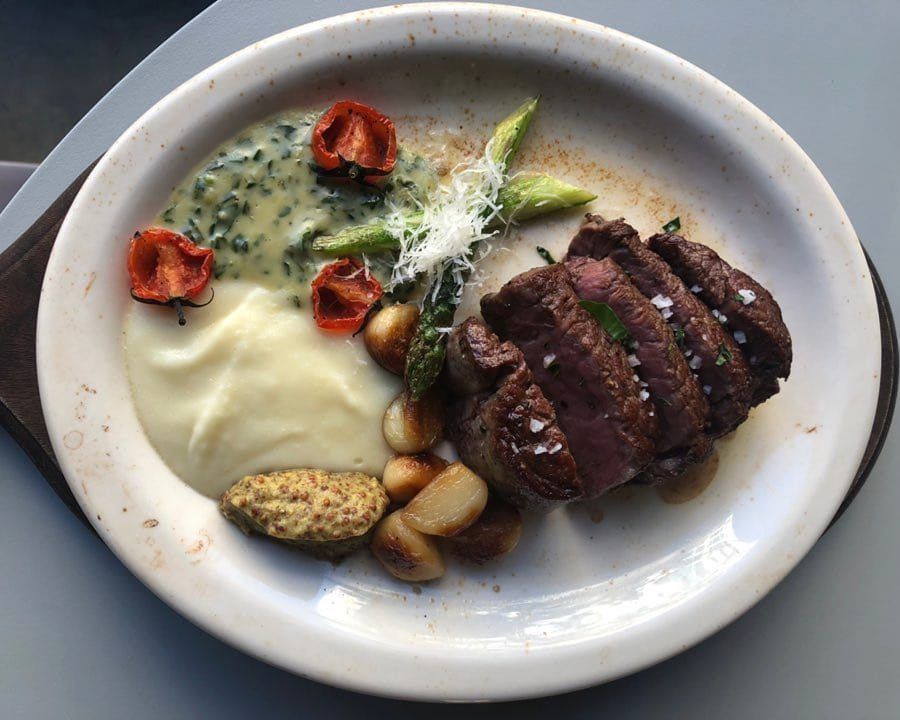 Instagram: bistromangwon
Address 
119 Huiujeong-ro, Mapo-gu, Seoul
Opening hours
Every day 11:30AM-10PM (Break time is only on Weekdays:3PM-4PM)
Contact
0507-1329-181

*Opening hours are subject to change at the owner's discretion
Ichizen
Instagram: ichizen_ten
Ichizen is a popular, cozy Japanese restaurant that serves amazing *Ten-dong.*They have various menu of Ten-dong you can choose from with mouth-watering toppings, and a few more seasonal specialties. Also, their adorable entrance with an illustration of a rice bowl is a hot photo spot, making this restaurant into one of the most Instagrammable places in Mangwon-dong. Since they are so popular, you have to wait a bit to enter this Ten-dong heaven. Arrive 30 minutes before their opening time to write your name on the reservation list!
Address
109 Poeun-ro, Mangwon 1(il)-dong, Seoul
Contact 
070-7740-0321
Opening hours
Tue-Sat 12PM-8:30PM (Break Time: 2:30PM-5:30PM) / Sun 12M-5PM (Closed on Mondays)

*Opening hours are subject to change at the owner's discretion
See more post
---