Tour
How To Navigate Yourself In Korea
Updated on Aug 29, 2023
 · 
By ENKOR
Being in a foreign country can be hard especially when you have yet to become familiar with the area. You will need to find where are the subway station, the cafes, your school, the nearest convenience store, and all the places you need to go to in order to carry out your daily life. Until recently Google Maps was ineffective in Korea. Now it can show some of the main bus and subway routes but it still does not support walking and car directions, but don't panic! Korea has a lot of transportation apps that fits every situation you can find yourself in and we're here to introduce the best apps that can help you to find your way in Korea!
It is definitely easier for foreigners to take the subway as it is easily accessible, fast and connected to all the major areas in Seoul. The bus system is well developed too but it can be more complicated for a first timer.
[NOTE] You must validate your transport card in and out of all the transportation services, the basic fare to use the subway is 1250KRW (~1,10USD) and an additional fare will be added depending on the length of your trip (+100KRW every 5km) for more information make sure to visit the official Seoul Metro website.
1. KAKAO Map
Kakao Map is one of the most used application in Korea. You can use its navigation service in a similar way with your average map application and you can also learn all about points of interest such as restaurants sorted into food type, price, reviews, etc. But first, you need to download and set up the app! Once download is completed, choose to "Login with Kakao Account" and you should already be done with the settings! BUTyour app might be in Korean by default, here is how to solve this issue:
Press The Settings Tab On The Top Left > 설정 (Settings) > 앱 설정 (App Settings) > 언어 (Language) > English
Now that you are all set let's see how to use the app functions!
Finding Your Way Using KAKAO Map
You just finished your day at Hongik University and your friend wants to hang out with you around Yonsei University !
You can choose different ways to get there: by bus, metro, car, foot or even by bicycle.
If you want to prepare a trip for later you can set your desired date and time of departure. You can also Click on the "Recommendation" drop down button to manage your preferences (lower walking time, simpler route...)
When you click on the first option, it shows that you will have to take 2 buses and walk a bit to get to Yonsei University. Swipe to the left to show all the details of your trip. No need to speak Korean to understand as the icons are self explanatory, but if you still want translations make sure to check the end of this article.
Naver Map is also one of the most used navigation apps in Korea. It works in a very similar way as Kakao Map but is overall less foreigner-friendly so we decided not to include it in our list but it still deserved to be mentionned.
2. KAKAO Metro
The best thing about KAKAO Metro when you first arrive is that it offers a foreigner-friendly English interface. Moreover you can still see the map even offline, it can be useful to know when to get out even without WiFi!
How To Use The App?
Let's take the example of one of the most popular area in Seoul: Hongik University.
Click on your selected station, here let's click on Hongik University.
You can select one of the options to start your trip but here let's select the Info button.
Here you can browse all the information about the station: next inbound and outbound trains, next stations on both ways, schedule of all the trains of the day, and you can even navigate around the station with KakaoMap.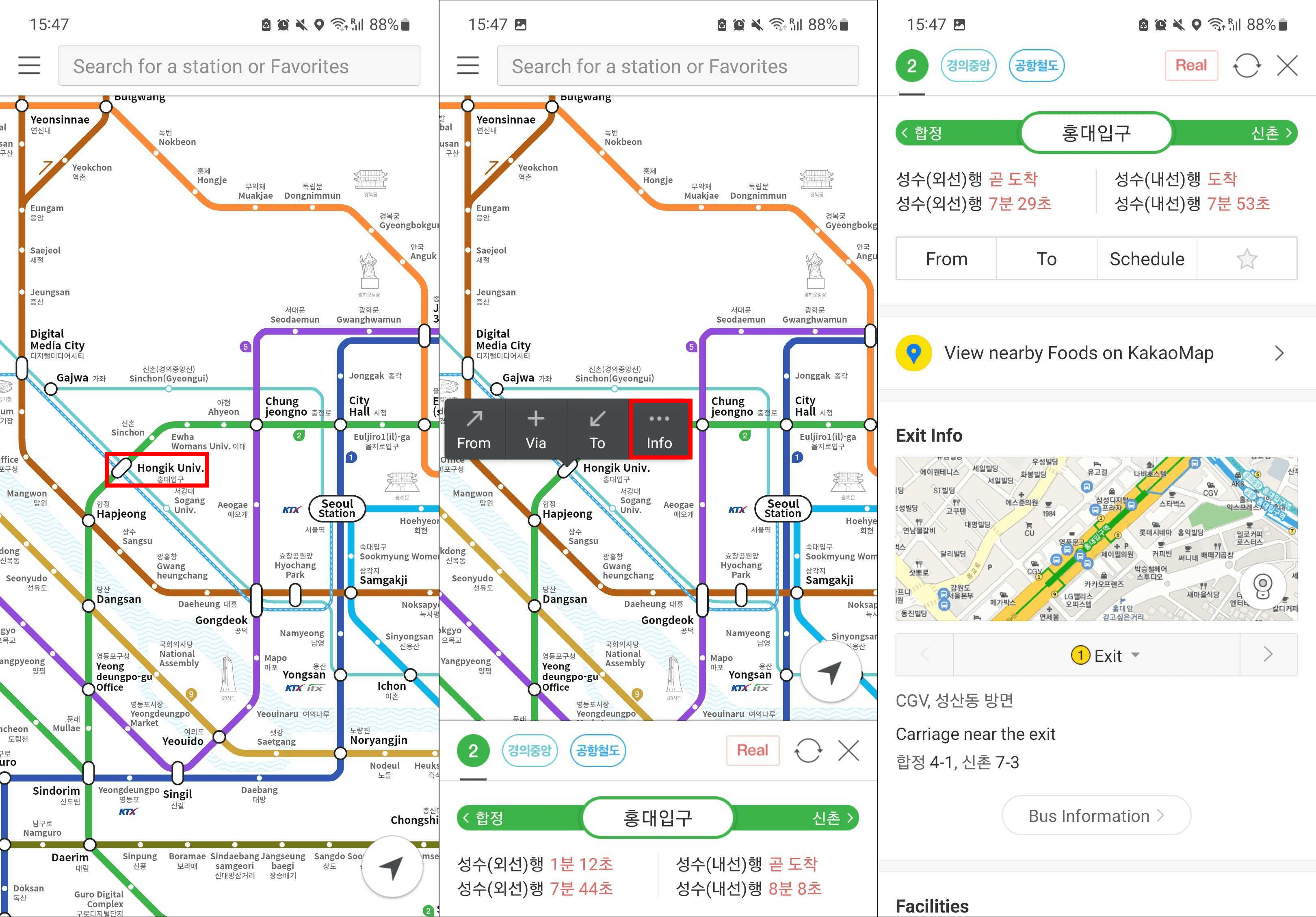 The schedule shown for next incoming train is in real time so you can just time your departure by looking at these infos before coming out of your house or cafe.
Finding Your Way Through The Subway
Simply select the station you are at and the station you wish to go to. You will get the quickest route, the number of transfers and the price of the trip. You can see the example down below for a trip from Hongik University station to Sangsu station.
3. Kakao Taxi
Kakao Taxi is the most used taxi application of the country. In Korea taxis are really cheap and can be convenient to go back home when metros and buses are not available anymore. However they are also famous for going to the speed of light so you better have a strong stomach!
The app offers many services but you will mostly be using it for taxis. To get going click on the taxi(택시) icon.
Let's use the same example as with Kakao Map: I am at Hongdae and I want to meet my friends at Yonsei University.
Your location is automatically set but you can enter a new one along with your destination as I did there.
Pick your desired transport type, 일반호출 is the basic and cheapest option but for more confort you can pick the premium 블랙 option.
Confirm your choice
Pick your favourite payment method, you can register your credit card on the app or choose to pay to the driver once arrived at your destination.
You will soon be able to see the information regarding your taxi, make sure to keep an eye out for its licence plate number to find the right one!
Have a good trip!
4. Korail
If you want to go out of your city and visit all of Korea, Korail is your go-to app! It is the main application to use regular trains and KTX, the Korean high-speed trains. Korea is a rather small country so you can travel from Seoul (north west) to Busan (south east) in 2 and a half hours!
[NOTE] The newest and quickest trains in Korea, the SRT, have their own app but the number of trains and lines is quite limited so we will not focus on this solution
Once you open Korail (코레일톡) you will arrive on a menu and first surprise: The whole app is in English!
Set your desired travel - departure, arrival, number of passengers..
Select your favourite train to see its timetable and to confirm your choice.
Input your information - make sure to write down a valid e-mail address.
You will then see a summary of your trip info and its price - choose if your payment is issued in Korea or oversees.
Agree to the terms and services and proceed to the payment.
The train ticket is now yours!
Your ticket information will also be in English and you will have a QR code for your check-in.
As you can see finding your way here in Korea is simple once you understand how to use these applications. You always can take screenshots of your trip before going out but to have real-time informations and follow your bus or metro it is way better and more convenient to have a phone with a SIM card that gives access to public WiFi and data.
To get your own cheap SIM card make sure to take a look at our SIM card plans!
5. How To Read A Korean Address?
Let's break down the address of our community cafe Enkor 404: 서울 마포구 서교동 404 - 9
서울 - Seoul (city)
마포구 - Mapo (마포) District (구)
서교동 - Seogyo (서교) Neighbourhood (동)
404 - 9 - Street number
You will also come across other words:
Streets have different names depending on their width: 대로 > 로 > 길
The appartment number is written 216호, it means that the appartment is the number 16, located at the 2nd floor(층).
6. Useful Words To Know
Some stations are located near universities so you might be confused by their name. Hongik University Station, Hongdae: what is the difference?
It is actually the same thing but contracted: Hongik University Station - 홍익 대학교 역 - Hongik Daehakkyo Station - Hongdae Station
대학교 = university
역 = station
출구 = exit
다음 = next
이전 = previous
곧 도착 = arriving soon
시 = hour
분 = minute
초 = second
[number]개 정류장 이동= number of stations to arrive
"[station name] 어떻게 가요?" = [station name] eotteohke gayo?= "How to go to this station please?"
See more post
---